Posts for: April, 2014
By Jeffery J. Johnson & Jodi B. Johnson DDS
April 17, 2014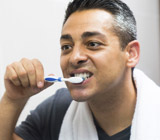 One of the great benefits that patients with implants enjoy is their imperviousness to decay: unlike a natural tooth, bacteria have no effect on the materials in an implant's construction. That doesn't mean, however, you can become lax in your hygiene habits — although the implants may not be susceptible to disease, the surrounding gum tissue and bone are. If those tissues become infected you could start to lose the implant attachment and, as it progresses, the implant itself.
In fact, the gum tissue that surrounds the implant may be more susceptible to infection than those around natural teeth. Teeth maintain a connection with the jawbone through the periodontal ligament. Besides securing the tooth, the gum tissue has fibrous attachments to the tooth to help the gum tissue endure a lot of wear and tear and resist the invasion of bacteria and food particles. Implants are anchored directly into the jawbone (where bone eventually grows and attaches to the titanium implant surface) and don't develop an attachment with the ligament. Implants, therefore, don't have the benefit of resistance to bacteria and food particles that natural teeth receive through these fibrous attachments.
As a result, patients with implants need to establish a conscientious habit of effective oral hygiene. Daily removal of bacterial plaque from teeth surfaces through brushing and flossing (and semi-annual office cleanings and checkups) greatly reduce the risk of infection and subsequent inflammation. It's also important to monitor the condition of your gums, especially around implants. If you begin to notice bleeding, red or swollen gums, or other signs of possible gum disease, you should contact us as soon as possible for an assessment.
Proper care for implants and their supporting tissues is just as necessary, and perhaps more so, than it is for natural teeth. By providing that care, you'll help ensure years of effective service from your implants.
If you would like more information on hygiene practices with implants, please contact us or schedule an appointment for a consultation. You can also learn more about this topic by reading the Dear Doctor magazine article "Infections Around Implants."
By Jeffery J. Johnson & Jodi B. Johnson DDS
April 02, 2014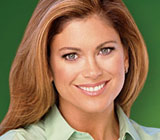 It is not often that you find a celebrity who is willing to speak candidly about any cosmetic or restorative dentistry that he or she has had. Instead, most prefer that their fans just assume that their dazzling "Hollywood" smile is something that just happened naturally. However, that is not the case with Kathy Ireland, the former Sports Illustrated cover girl, current business mogul and founder of kathy ireland Worldwide, a billion dollar marketing and design firm. In a Dear Doctor magazine cover story she talks openly about her dental experiences, injuries and treatment so that people worldwide can understand what may be possible for them.
For Kathy, it happened several years ago when she was playing with her husband and children in their driveway. Kathy decided that she would stand in her children's wagon and surf across their driveway. Instead, she ended up "face-planting," as she describes it, in a freak accident that left her with a broken nose, split forehead and several broken teeth. She recalls that it sounded like a watermelon had smashed. Luckily, her husband, an emergency room physician, was on hand to care for her. Kathy is just as thankful to her cosmetic and restorative dentist who restored her trademark smile with some veneers and a dental implant. Today, the only reminder she has from this accident is a small scar on her nose that she covers with a little makeup.
You would think that this accident would be enough trauma for one person; however, Kathy describes an earlier accident where she knocked out a tooth and then later knocked it loose again. Kathy also wanted to take the time to let readers know that her dental implant experiences were "pretty easy." She did recall, "hearing all the sounds while all of it was going on" and then added, "but I have to tell you, that after being a mom and having kids, going to the dentist...is like going to the spa!" She said that she has even fallen asleep in the dental chair.
To learn more about Kathy Ireland, continue reading the Dear Doctor magazine article "Kathy Ireland." Or if you think cosmetic or restorative dentistry is right for you, contact us today to schedule an appointment to discuss your specific goals.